Upcoming Performances
LA MAMA
Experimental Theater Club
Celebrating 55 Years
presents
REMEMBERING
PANDIT RAMESH MISHRA
By Malini Srinivasan
with guest choreographer Janaki Patrik
This performance is a tribute to the sarangi maestro, the late Pandit Ramesh Mishra, whose inspirational music is featured in many of these dances. Choreographer Malini Srinivasan presents excerpts from Tejas – Luminous, a dance production exploring connections between the spiritual, the corporeal, light and sound. Guest choreographer Janaki Patrik presents an excerpt from Mozartayana. Its introductory Urdu sher, Hazaaron khwaahishen … , written by the 19th Century poet Mirza Ghalib, was spoken by Pandit Ramesh Misra, followed by his playing in Ektaal Tarana, in the Kathak Ensemble's 2012 recording.
Bharata Natyam dancers: Aditi Dhruv, Kadhambari Sridhar, Karthiga Devi, La'Toya Latney, Malini Srinivasan, Winston Dyamite Brown, Tatyana Popova
Kathak dancers: Janaki Patrik, Angelina Haque, Anisha Muni
~~~~~~~~~~~~~~~~~~~

Saturday, May 27, 8pm AND Sunday, May 28, 3 pm
The Downstairs
$25 / $20 Tickets available at www.lamama.org / 212-352-3101
For more information visit
malinisrinivasan.com & kathakensemble.com

~~~~~~~~~~~~~~~~~~~~~~~~~
There are thousands of desires that are each worth dying for
Many of them I have fulfilled …. yet I yearn for more.
~ Sher from a GHAZAL written by Mirza Ghalib
Remembering Rameshji
I have loved the sound of the sarangi since the very first day in 1963 when I saw Pandit Birju Maharaj dance Kathak, At that time Maharaj-ji was touring the United States, having just received the prestigious Sangeet Akademi Award at the young age of 28. His accompanying musicians included the sarangi player Mohammed Jan, who had accompanied Maharaj-ji's father, Aacchan Maharaj.
As a result of the music and dance which I saw on that fateful day, I went to India in 1967 to study Kathak with Pandit Birju Maharaj, who became my Guru — Maharaj-ji. And ever since, the music of the saranagi has been the defining sound of Kathak in my life. For me Kathak is incomplete without the voice of the sarangi.
The sarangi is a fiendishly difficult instrument to play. With its 3 main strings and 35 to 37 sympathetic strings, tuning alone is a time-consuming challenge. In addition, the intervals are created not by pressing the pads of the fingers on the strings and underlying fret board, but by sliding the cuticle of the fingers along the strings and gliding the finger pads gently over the underlying body of the instrument. For the listener the fluidity and microtonal melodies created are mesmerizing. For the player the pain on the cuticle is excruciating during the process of learning to play the instrument. Ramesh-ji told me that he learned to play such fast tans ("runs") during the winter, when his father would grab his hand and plunge it into a bucket of ice water, whenever Ramesh-ji's pain caused his speed to flag.
How did I meet Ramesh-ji? Rehearsals for my second version of KA-TAP, which premiered at Symphony Space in 1996, included a recording session with nine Indian and jazz musicians. Tabla player Pt. Samir Chatterjee, knowing my love of the sarangi, mentioned that a sarangi player named Ramesh Misra was just finishing a tour with the khyal singers, the Kichlu Brothers from Kolkata. Would I like him to ask Ramesh-ji to play in KA-TAP? Would I? Oh yes!
Once again circumstances intervened to connect me with an outstanding artist. Ramesh-ji was interested in playing in the United States, and his increasingly frequent tours necessitated visa applications. Since I was intent on including Ramesh-ji in all of my productions, I took over the visa application process for several of his tours, and Ramesh-ji lived with my family during the down-time in these American tours. When he would return from a series of performances, he would make a pot of kitcherie and we would stay up all night talking.
During these frequent absences from Kolkata, Ramesh-ji missed his wife Maya and young son Rohan. Eventually he felt sufficiently secure in the United States' career possibilities, that he could bring them to live here. I remember my first glimpses of beautiful Maya-ji and little Rohan. That they both adored Ramesh-ji was evident in Maya-ji's smile and in Rohan's wearing little wool gloves even in the warm spring weather. Maya-ji said that he was protecting his hands so that he, too, could play the sarangi.
Skipping over decades, I arrive at the 2013 recording session for MOZARTAYANA, the central piece from the production Dance Jewels from Lucknow, City of Dreams. This piece links the graceful classicism of Mozart's Vienna with the elegant classicism of Lucknow. The music and poetry from these two cities are well matched. Moreover, Lucknow is the city where my Guru's ancestors developed their distinctive style of Kathak, and where their ancestor, the poet Bindadin Maharaj, had lived and danced and taught Nawab Wajid Ali Shah – the last ruler of Lucknow before it became part of the British Raj. The first two parts of MOZARTAYANA will be danced in these two 2017 performances in tribute to Pt. Ramesh Misra, his life and art.
At that 2013 recording session Ramesh-ji was just recovering from radiation treatments for throat cancer The feeding tube had been removed from his throat only shortly before our recording session. Therapy was restoring his voice, and he was correcting vocalist Mitali Bhawmik's Urdu pronunciation. After a few minutes all of us – tabla player Narendra Budhkar, sitarist Indrajit Roy-Chowdhury, Ramesh-ji's wife Maya, the bansuri player Eric Fraser and Mitali Bhawmik herself – all were struck by the beauty of Rameshji's voice. The deep wisdom of the poetry assumed a special poignance when Ramesh-ji spoke it. We all requested Rameshji to recite the beautiful Urdu in the recording, and so he did.
Join us on Facebook to stay up to date on upcoming performances! Check out the most recent photos on The Kathak Ensemble's Facebook Page Please check the classes page for specific news about Kathak technique classes.
Past Performances

THE KATHAK ENSEMBLE & FRIENDS PRESENT
"WE SINFUL WOMEN"
Contemporary Dance With Indian Influence
Based on the Urdu Feminist Poetry Collection
Eight Poems – Eight Dancers – Commissioned Music
DANSPACE PROJECT, NYC
MARCH 2 THROUGH MARCH 4, 2017

WE SINFUL WOMEN Teaser
(New York, NY, Feb. 2, 2017) – The Indian dance performance collective The Kathak Ensemble & Friends returns to New York this spring in an all new Indian-influenced contemporary dance work speaking to the universal repression of women. Based on the eight groundbreaking (Pakistani) Urdu poems first published in 1990, WE SINFUL WOMEN will premiere at Danspace Project, St. Mark's Church in-the-Bowery, 131 East 10th Street, Thursday, March 2 through Saturday March 4 at 8pm, with an artist Q/A following the performance on Friday, March 3. *

Created by Kathak Ensemble & Friends Artistic Director Janaki Patrik, the work will feature eight female dancers and original commissioned music by two-time Canadian Grammy winner and composer Kiran Ahluwalia.
In WE SINFUL WOMEN, Janaki Patrik seeks to give voice, through melody and movement, to the words of the female Urdu poets Ishrat Aafreen, Kishwar Naheed, Zehra Nigah and Fahmida Riaz . Protesting the suffocating repression in their physical and emotional lives, these poets courageously wrote with both confrontational anger and ecstatic lyricism.
According to Ms. Patrik, "I was first introduced to WE SINFUL WOMEN while at Columbia University studying Indic languages, and the poems resonated. I tried to create a work not about the polish and speed of classical Kathak, but about women's fierce assertion of their selfhood. Each poem projects it's own distinct mood – humorous, sad, ironic, romantic, tongue-in-cheek, triumphant. Musical accompaniment is similarly unique for each poem: COUNTERCLOCKWISE starts with the sound of a tape rewinding; JURAT is sung in the intimate style developed in a 19th Century mehfil (gathering); IMAGE/Reflection is structured like a question-answer straight out of North Indian classical music.
"This is not classical Indian dance. And the poets do not consider their texts "feminist" poetry either. Instead the dance, poetry and music join in expressing what it is to be a woman – her tender feelings, her pride, her resistance to efforts to destroy her selfhood, her sadness at consistent denigration by those in power – whether political or religious – who made it impossible for her to worship, love, create and even live with an open
heart," she said.
According to composer Kiran Ahluwalia, "for each poem I listened to Janaki's ideas of the type of movement that it suggested to her, the images that she associated with it, and the mood that it elicited for her. This is a daring project and it is challenging to put such politically charged text to dance and even to music – but Janaki has unique ideas for the poems and her vision inspired me in composing the melodies and rhythms."
First published in 1990 in Lahore, Pakistan, and in 1991 in London, the poetry collection WE SINFUL WOMEN (edited by Rukhsana Ahmad) gave a glimpse of the situation in which women had few rights, and their dance and poetry were considered blasphemous. The production embodies the outrage and tenderness encapsulated in the concentrated language of poetry and dance.
KATHAK has its roots in North Indian village storytelling. It's vocabulary of gestures and facial expressions are perfectly suited to representing the emotions and situations in these poems.
* Artist Q/A following Friday, March 3 performance moderated by Gauri
Viswanathan, Columbia University Professor of Humanities.
"Multiculturalism never had it so good." – The Washington Post.
THE KATHAK ENSEMBLE & FRIENDS
"WE SINFUL WOMEN"
DANSPACE PROJECT
ST. MARK'S CHURCH IN-THE-BOWERY
131 East 10th Street
New York, NY 10003
THE KATHAK ENSEMBLE & FRIENDS is presented as part of Danspace Project's Community: ACCESS series, which provides subsidized off-season rental opportunities for Danspace Project community members.
ABOUT THE KATHAK ENSEMBLE AND FRIENDS:
The Kathak Ensemble & Friends and its arts-in-education unit, CARAVAN,
communicate the richness of Indian culture through its arts, most specifically through the classical North Indian dance style Kathak, its storytelling techniques (katha) and its accompanying Hindustani music. The Ensemble also creates its own innovative repertoire, in which Kathak interacts with familiar American arts forms, demystifying unique details of Indian culture and engaging audience members in a journey of the imagination, revealing exotic other-ness as a variation on the
common theme of human-ness.
ABOUT JANAKI PATRIK, FOUNDER/ARTISTIC DIRECTOR:
Janaki Patrik has been trained in Kathak classical North Indian dance, principally by Pt. Birju Maharaj, as well as in music and dance idioms of her native United States. She studied technique, repertoire and choreography for a decade at the Merce Cunningham studio, supported by a studio scholarship. Since poetry lies at the foundation of Kathak technique, repertoire and performance practice, Janaki has acquired facility in many of the major languages and dialects of North India, including Sanskrit, Hindi, Urdu, Braj and Maithili.
She was awarded a Senior Research Fellowship from the Fulbright Foundation in 1988/89 to study the poetry of the Kathak dance repertoire, and an American Institute of Indian Studies Language Fellowship to study Hindi in India in 1994. In 2008-09, her studies of Kathak curriculum and pedagogy in India were supported by an American Institute of Indian Studies, Senior Performing Artists Fellowship.
Choreographer: Janaki Patrik with the Dancers
Composer: Kiran Ahluwalia
Dancers: Aditi Dhruv, Angelina Haque, Kanushree Jain, Megha Kalia, Romanee Kalicharran, Meenakshi Lala, Bharathi Penneswaran, Saloni Somani
Lighting designer: Kathy Kaufmann
Female Vocal: Kiran Ahluwalia
Male Vocal: Samarth Nagarkar
Sarangi: Pt. Ramesh Misra
Tabla: Nitin Mitta
Bansuri flute, clarinet & saxophone: Steve Gorn
Rubab: Quraishi Roya
Frame drum: Rich Stein
English recitation of poems: Manoshi Chitra Neogy, Kiran Ahluwalia, Samarth Nagarka
Consultants in Urdu Language & Literature: Professor Tahira Naqvi, Professor Frances Pritchett
Assistant in sourcing costume materials from India: Rani Khanam
The Poems (in program order):
First Prayer of My Elders
Compromise
Image
O God of Heaven and Earth
Saropa by Jurat
Anticlockwise
Migration
We Sinful Women
WE SINFUL WOMEN – by Kishwar Naheed – translated by Rukhsana Ahmad
It is we sinful women
who are not awed by the grandeur of those who wear robes
who don't sell our lives
who don't bow our heads
who don't fold our hands together.
It is we sinful women
while those who sell the harvests of our bodies
become exalted
become distinguished
become the just princes of the material world.
It is we sinful women
who come out raising the banner of truth
up against barricades of lies on the highways
who find stories of persecution piled on each threshold
who find that tongues which could speak have been severed.
It is we sinful women,
Now, even if the night gives chase
These eyes shall not be put out
For the wall which has been torn down
Don't insist now on raising it again.
It is we sinful women
who are not awed by the grandeur of those who wear robes
who don't sell our lives
who don't bow our heads
who don't fold our hands together.

---
Iqra Fund + The Kathak Ensemble and Friends
About the show:
Stories and images were shared by Genevieve Walsh, CEO/Founder of Iqra Fund, and there was a live Kathak performance hosted by the Kathak Ensemble founded by Janaki Patrik.
Kathak is the classical dance of Northern India. Its name derives from the Sanskrit word Kathaka or storyteller. Kathak is the combination of the spiritual fervor of the Hindu temple with opulent entertainment from the Mughul and Rajput courts.
All proceeds were donated directly to support girls' education in Pakistan.
Event details:
Centre for Social Innovation, 601 West 26th Street, New York, NY 10001 [map]
Thursday, May 19, 2016, 7:00pm
SUMMER DANCE 2015 – The Art of the Tawaif, The Ten Dancing Princesses
About the Show: The Ensemble presented repertoire from the Lucknow darbar and mehfil – the court and intimate gatherings. The first performance also included the Ensemble's own version of the Brothers Grimm's fairy tale "The Twelve Dancing Princesses." The Ensemble's Ten Dancing Princesses, aged 4 to 8 years, performed Kathak and were costumed in ghararas.
Sunday, June 14, 2015 – 2 Shows
DANCERS
The Ensemble:
Janaki Patrik with Rashi Verma – Shweta Srivastava – Gulmina Mahmud – Meenakshi Lala – Saheli Kothari – Amina Hassan – Angelina Haque – Linda Cruze
The Children:
Lara Adamjee – Alizeh Agha – Aalia Choudhry – Aashvi Geddam – Samara Islam – Arreyana Khaliq – Radha Nagrani – Faiz Rashid- Hana Rashid – Gemma Rathore – Aditi Sharma – Arjun Sharma
VASANT LEELA
SPRING REVELS
joined by dancers from the Vanaver Caravan Youth Company
Hosted by SUNY Ulster's WORLD MUSIC & DANCE
Larry Berk Arts & Cultural Programs presents
The Kathak Ensemble & Friends
Janaki Patrik, Artistic Director
featuring Angelina Haque ~ Neha Kulkarni ~ Meenakshi Lala ~ Gulmina Mahmud ~ Neeha Mujeeb ~ Anisha Muni ~ Shweta Srivastava ~ Rashi Verma
Bill & Livia Vanaver, Artistic Directors
Thursday, March 12 (Lecture & Demonstration) and Friday, March 20, 2015 @ 7pm in the Quimby Theater at SUNY Ulster, 491 Cottekill Road, Stone Ridge, NY 12484
Celebrating the first day of Spring 2015, SUNY Ulster presents a program of North Indian classical Kathak and folk dance. This dance journey lingers in a forest near the Taj Mahal – where Krishna and his village friends join in the great circle Dance of Life. Continuing their travels from Mughal Lucknow to elegant Viennese courts, the Kathak Ensemble dances to the Allegro of Mozart's Jupiter Symphony. Joined by the Vanaver Caravan Youth Company, the Kathak dancers travel to Rajasthan and creates a joyous clamor of jingling bells and clicking sticks in the folk Dandiya Raas. The journey ends on a Bollywood film set, with Krishna still playing his tricks and teasing the dancers in a popular song from the movie DEV DAS.
LUCKNOW NEXUS
Hindu & Mughal Elements in Kathak
Saturday, January 31, 2015 @ 1:30pm in the Auditorium at the Flushing Branch of Queens Public Library, 41-17 Main Street, Flushing, NY 11355
LUCKNOW NEXUS celebrates the perfect balance of Hindu and Mughal elements in classical north Indian Kathak dance. The unique style which developed in the fabled city of Lucknow draws its stories – its KATHA – from both Hindu mythology and Persian-Urdu poetry. Leaping over geographic and musical boundaries, the program finale interweaves a classical Hindustani tarana with the Allegro from Mozart's Jupiter Symphony, displaying the overarching grace and grandeur of the 19th Century Lucknow and Viennese courts.
DIWALI
A festival of joy, hope, and celebration on November 8, 2014 at Springhouse Middle School, 1200 Springhouse Road, Allentown, PA 18104.
THIRD INTERNATIONAL KATHAK FESTIVAL
Janaki Patrik, Artistic Director with the Dancers – Neha Kulkarni, Meenakshi Lala, Gulmina Mahmud, Anisha Muni, Vaishali Sinha, Shweta Srivastava, Rashi Verma.
MOZARTAYANA, choreographed by Artistic Director Janaki Patrik, was performed on Friday, 12 September 2014 as part of the evening program — 7-9:30pm at the 3rd International Kathak Festival — 12 to 14 September 2014.
Produced by the Anila Sinha Foundation in collaboration with International House at the University of Chicago.
SummerDance: A Medley of Lucknow Kathak
At The Robert Moss Theater at 440 Studios.
Sunday, June 22, 2014 – 2 Shows
PREMIKA Women in Love
Produced as part of IATI Theater's 2013 Performing Arts Marathon
Friday and Saturday, July 26 and 27, 2013 at IATI Theater.
About the Show: First explicated in the Natya Shastra, an ancient Indian treatise on dramaturgy dated somewhere near the beginning of the Common Era, the concept ofAshta Nayika has been interpreted countless times in Indian dance, music, painting, poetry and theater during the subsequent two millennia.  Enumerating eight types of women in love and their emotional states, Ashta Nayika creates a framework in which to examine the most basic of human relationships – romantic love.  The Kathak Ensemble's production PREMIKA dramatizes the modern relevance of this archetypal concept.
About the Artists: Artistic Director – Janaki Patrik; Dancers – Sowmya Viswanath, Rashi Verma, Anisha Muni, Neha Kulkarni
TAAL SE TAAL / Match Your Rhythm To Mine
Produced as part of IATI Theater's 2012 Performing Arts Marathon
Saturday and Sunday, July 28 and 29, 2012 at Baruch Performing Arts Center
About the Show: In the Kathak Ensemble's 2012 production TAAL SE TAAL / Match Your Rhythm To Mine, Kathak dances to the beat of four very different drummers: Bollywood's lush orchestrations for classic Indian film songs, Mozart's Allegro from the Jupiter Symphony, finger cymbals and ankle bells, and American composers Samuel Barber and John Adams. Tender romance, humorous liaisons, complex entanglements and gracious interchanges unfold against shifting soundscapes – sometimes lyrical, sometimes ferociously fast, always irresistibly melodic.
About the Artists: We communicate the richness of Indian culture through its arts, most specifically through the classical North Indian dance style Kathak, its storytelling techniques and its accompanying Hindustani music. Ensemble programs strive to create a dialogue with a broad spectrum of dance and musical styles. Artistic Director Janaki Patrik with Kathak dancers Sowmya Viswanath, Rashi Verma, Brighid O'Dea, Anisha Muni, Neha Kulkami, Mrinali Kaul, Tara Chowdhury, Rajanandhini Balachandran, Prachi Bakarania, and modern dancers Atsushi Yahagi, Yayoi Suzuki, Chie Mukai, Scott Lewis, Caron Eule, Maurice Dawkins.
---
TRANSFORMATIONS / Devi – The Goddess Within
Saturday, June 30, 2012 Location: The Theater, Queens Library, Flushing Branch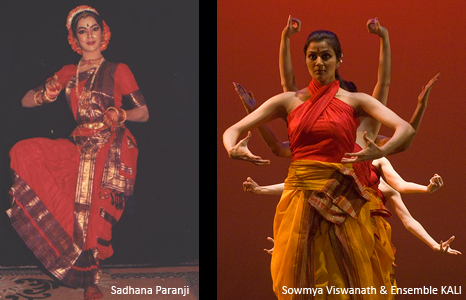 About the Show Fearsome warrior and protective mother, the Goddess depicted in Indian dance is both distant divinity and an intimate powerful force within each woman. Dancing stories of the Goddess in Indian classical and theater styles, Janaki Patrik, Sadhana Paranji and Ensemble dancers present Saraswati Goddess of the Arts and Learning in Kathak style, Durga riding her lion in the virtuoso Simhanandini item from the Kuchipudi repertoire, "Uma Sangeet : The Daughter Returns Home" in the village storytelling Katha vacha style and "Bhagyada Lakshmi Baramma : Welcome, Oh Lakshmi, Goddess of Fortune" in Bharata Natyam style. The program concludes with the heroic KALI Stuti, a five-woman ensemble manifesting the gruesome and compassionate grandeur of KALI MA, Mother Kali. Dancers Janaki Patrik & Sadhana Paranji with Sowmya Viswanath, Yayoi Suzuki, Chanon Judson, Caron Eule, Tara Chowdhury.
---
AVATARS of VISHNU
July 2nd, 2011 @ The Brooklyn Museum The Kathak Ensemble brings to life stories about Lord Vishnu illustrated in this major art exhibition. Enacting episodes from Vishnu's various descents to earth – avataar, the dancers depict flute-playing Krishna, the warrior-king Ram and Narasimha, the man-lion. The performance concludes with a show- stopping dance from the popular Bollywood film Dev Das. Dancers: Janaki Patrik with Geetika Agrawal, Tara Chowdhury, Janhavi Dalvi, Neha Kulkarni, Meenakshi Lala, Sandhya Menon, Brighid O'Dea, Urvi Patel, Rashi Verma, Sowmya Viswanath. Saturday, July 2nd, 2011, 6pm – Brooklyn Museum – Cantor Auditorium
---
DANCE JEWELS from LUCKNOW: City of Dreams
July 30th, 2011 @ Baruch Performing Arts Center Enter on 25th Street between Lexington & 3rd Avenues, Manhattan The Kathak Ensemble & Friends showcase Kathak, the classical dance style from the fabled north Indian city Lucknow. The unique mixture of Hindu and Islamic cultural influences in Lucknow's courts and drawing rooms forged brilliant pure dance techniques and expressive storytelling mime. A selection of traditional dances from the repertoire concludes in a show-stopping finale, which displays the glory of Lucknow-style Kathak. Dancers: Janaki Patrik with Sowmya Viswanath, Rashi Verma, Urvi Patel, Brighid O'Dea, Sandhya Menon, Meenakshi Lala, Neha Kulkarni, Janhavi Dalvi, Tara Chowdhury, Geetika Agrawal. Saturday, July 30, 2011, 3pm – Baruch Performing Arts Center, 25th Street between Lexington and 3rd Avenue
---
2010: POWER PLAY @ Ailey Citigroup Theater 2010: DANCING STORIES 2009: LOISAIDA KATHAK