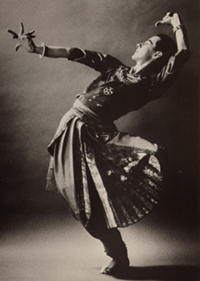 In her obituary acknowledging Nala Najan's January 7, 2002 death, the American dance critic Deborah Jowitt wrote: "This fall, Nala Najan sent me a video. It was a goodbye gift. Watching him in his prime, performing Bharata Natyam, Kathak, and Chhau solos, reminded me all over again what an extraordinary dancer he was. His gestures and postures were so clean, so bold, so full of fire, his acting so expressive, his slender body a reed swaying with passion. When I thanked him, I asked what made a boy born Roberto Rivera leave American at 15 to study in India. He answered that that was another story."
Ms. Jowitt's tribute to the remarkable drama and clarity of Nala's dancing captures a bit of the essence of the dancer, writer, scholar and complex personality with whom I became acquainted in 1985. He had attended my performance at Columbia University, NYC, offered as part of the Bharatiya Vidya Bhavan's "Prelude to the Festival of India in the United States", and he wrote a complimentary review in the July-August 1985 issue of Arabesque Magazine. He continued to attend and review many subsequent performances by me and The Kathak Ensemble & Friends.
Our dancer-critic relationship changed to student-teacher, when I learned that Nala had studied the Jaipur style of Kathak. Inspired by all forms of poetry, I have always been fascinated by the kavita torah compositions in the Jaipur gharana repertoire, and I asked Nala to teach me. While teaching me some of these beautiful amalgams of dance syllables and medieval Hindi words, Nala also critiqued my technique and demanded that I reexamine my performance style. For example he insisted that my long American arms should not be bent to the extent that they looked foreshortened. "You've got 'em, use 'em, Baby", he would demand.
As a parting gift to conclude my final lesson before I went to India for a year in 1988, Nala danced the Seraikela Chhau "Moon Maiden" item. My husband Gary, six-year old daughter Lela and I were entranced by this impromptu performance, danced in the space of a small living room cluttered with scattered toys and piles of luggage. This was the only time I saw Nala dance an item from beginning to end, but this fleeting fragment was sufficient to convey the coiled power and luminosity of his dance.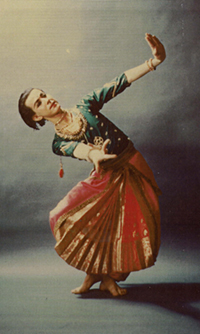 When I returned from India in fall 1989, I embarked on a new phase of my friendship with Nala. I went to his apartment in the very late evenings, after putting my daughter to bed. Night birds that we both were, Nala and I would progress from movement to discussion to movement to discussion until late into the night. We might not meet again for another week or two, since we lived three subway transfers apart, he on the Upper West Side and I on the Lower East Side of Manhattan. Nevertheless, this cycle of words and movements would continue across physical and temporal boundaries, with the telephone as our time-space capsule. I might call Nala at 2 or 3 in the morning and ask some question about the poetic text of a dance. A few days later a large manila envelope would be delivered in the mail. Inside would be an essay, painstakingly pecked out on Nala's manual typewriter, decorated with geometric designs and an auspicious "Om" in Devanagari script at the top, concluding with elaborate arabesques and curliques and his definitively assertive signature punctuated by a smiling face wearing pendant earrings. Nala's essays combined scholarship, knowledge of current and past performance practice and insight into the inextricable mind-body union embedded in Indian classical dance.
Knowing Nala Najan was an adventure, an emotional and scholarly roller coaster ride. Sometimes he would approve of my dance and creative explorations, and then suddenly I would find myself out of favor – the focus of intense disapproval from the last row of the auditorium. If I could stick it out, I would usually understand, at least intellectually, what the criticism was all about. If I could see his passionate reactions in this light, I could ultimately use them as springboards for artistic growth. He could be brilliantly, sometimes scathingly, critical in his assessments of anyone's and everyone's work, motivations, ethics. The rules of "The World According to Nala" had their own inner logic, and Lord preserve you if you broke them!
Nala wrote and illustrated a poem which he intended to be the first in an English ashtanayika series for my next performances. Showman and showoff that he was in whatever form he chose, the poem is hand-written with illustration in colorful magic marker and silver glitter sprinkled as raindrops from an ominous, lightning-struck cloud:
A Poem

The Lamp Lit    The Ankle-bells Tied       — The rains       Her sobs       Heard by the clouds.