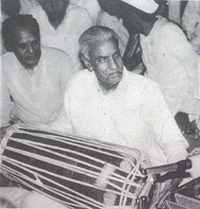 Guruji, Sri Purushottam Das, Pakhawaji spoke only a few words of English during all the years I knew him. And I spoke no Hindi during my early days at the Kathak Kendra. However, that did not deter my rampage through the rudiments of tabla technique, or impede the flow of our communication. His eyes and hands spoke what words could not. And having made my way through pages of piano and flute exercise books during my American childhood, I quickly grasped the increasingly complex progression of tabla kaida (exercises). If I ever thought I might slip a mistake by as Guruji seemed to doze in the sultry heat of high noon, I had something coming to me. Let one finger slip, and Guruji eyes would blaze open and an accusing finger would point at the errant reprobate on my own hand.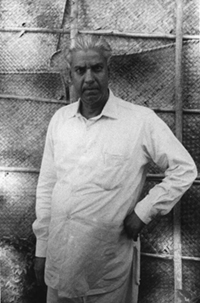 In those days the Kathak Kendra was located in a few condemned and not-yet-demolished bungalows, which were remnants of the British Raj. Maharaji's uncle, the great Kathak dancer and Guru, Shambhu Maharaj, taught in a large room in the main bungalow. Mataji and Guruji taught in two smaller rooms. The flour and water dough placed on the drum head of Guruji's pakhawaj, the two-headed barrel drum which he and generations of his ancestors had played in the temple in Nathadwara, attracted mice. I dared not stop playing when they scurried over my knees, running between their baseboard home and the dough.
Guruji's piercing gaze is evident in Gina Lalli's improptu portrait, taken in 1967 outside Birju Maharji's straw-walled hut. Guruji's disciple, the scholar and dancer Anne-Marie Gaston, took the photo of Guruji playing his giant pakhawaj in a musical gathering in his home town Nathadwara in 1983.