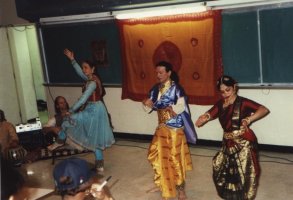 CARAVAN: Travels with Indian Music and Dance takes both children and adults on a rhythmic journey through the Indian subcontinent, with dance, music, artifacts, costumes and audience participation. CARAVAN is available for auditorium performances, in-class residencies, staff development workshops and family and community participatory workshops. CARAVAN tailors its residencies to the length of time available and the needs and interests of the participating population.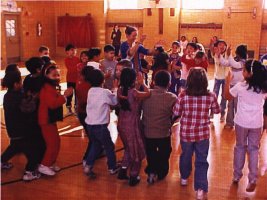 CARAVAN's Artistic Director, Janaki Patrik, considers arts-in-education to play a vital role in the work of her company. Her career began when Shirley Genther, founding director of Chicago's seminal arts-in-education organization Urban Gateways, invited her to create a school program with West African dancer Darlene Blackburn and drummer Brother Harold. Dances of the Earth demonstrated the overarching relationship among storytelling dancers, who perform barefoot on the earth, accompanied by speaking drums. Traveling throughout Chicago's public school system during two tumultuous years in interracial relations, 1970 and 1971, Janaki learned the power and the vulnerability of the teaching artist.
When she moved to New York City, Janaki continued her work in arts education, forming a partnership with Bharata Natyam dancer Arundhati Chattopadhyaya. Initiated by an invitation from Asia Society to relate its gallery art to performing arts during visits by local school children, Janaki and Arundhati extended their collaborative teaching and performing through Asian American Arts Theater, joined by tabla player Paul Leake and sitar player Ted Morano.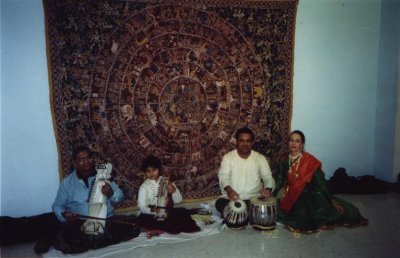 The roster of artists who have worked with CARAVAN has expanded as Young Audiences/New York, Young Audiences/New Jersey, Henry Street Settlement, Arts Connection and other presenters have scheduled CARAVAN's programs in schools throughout the Tri-state area. Artists who have performed with CARAVAN include the dancers Arundhati Chattopadhyaya, the late Gora Singh, Lakshmi Swaminathan, Swati Bhise, Vidya Murthy, Anup Kumar Das, Sadhana Paranji, and musicians Paul Leake, Ted Morano, Jim Palmer, Totaram Sirju, Pandit Samir Chatterjee, Srimati Sanghamitra Chatterjee, Pandit Ramesh Misra, Rohan Misra, Narendra Budhakar, Prasanna Kumar, Franc Menusan, Stanley Scott, Master Mulazim Hussain, Daniel Weiss, Mayookh Bhaumik, Ramkant and Rajesh Sant.