Upcoming Workshops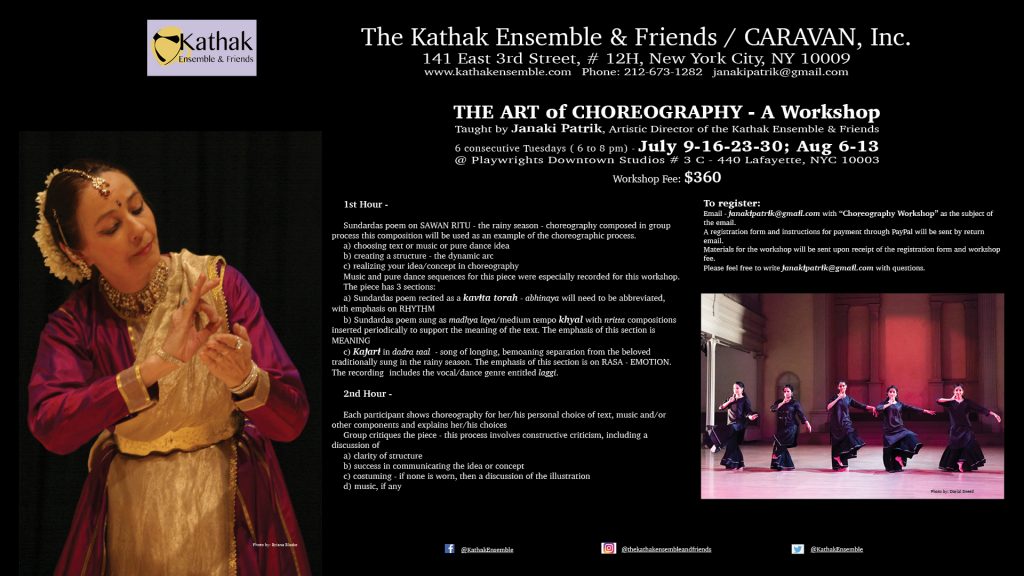 THE ART of CHOREOGRAPHY – A Workshop
Taught by Janaki Patrik, Artistic Director of the Kathak Ensemble & Friends
6 consecutive Tuesdays ( 6 to 8 pm) – July 9-16-23-30; Aug 6-13
@ Playwrights Downtown Studios # 3C – 440 Lafayette, NYC 10003
Workshop Fee: $360
1st Hour –
Sundardas poem on SAWAN RITU – the rainy
season – choreography composed in group process
this composition will be used as an example of the
choreographic process.
a) choosing text or music or pure dance idea
b) creating a structure – the dynamic arc
c) realizing your idea/concept in choreography
Music and pure dance sequences for this piece
were especially recorded for this workshop.
The piece has 3 sections:
a) Sundardas poem recited as a kavita torah –
abhinaya will need to be abbreviated, with emphasis
on RHYTHM
b) Sundardas poem sung as madhya laya/medium
tempo khyal with nritta compositions inserted
periodically to support the meaning of the text. The
emphasis of this section is MEANING
c) Kajari in dadra taal – song of longing,
bemoaning separation from the beloved traditionally
sung in the rainy season. The emphasis of this section
is on RASA – EMOTION. The recording includes the
vocal/dance genre entitled laggi.
2nd Hour –
Each participant shows choreography for her/
his personal choice of text, music and/or other
components and explains her/his choices
Group critiques the piece – this process involves
constructive criticism, including a discussion of
a) clarity of structure
b) success in communicating the idea or concept
c) costuming – if none is worn, then a discussion
of the illustration
d) music, if any
THE ART of CHOREOGRAPHY – A Workshop
Taught by Janaki Patrik, Artistic Director of the Kathak Ensemble & Friends
6 consecutive Tuesdays ( 6 to 8 pm) – July 9-16-23-30; Aug 6-13
@ Playwrights Downtown Studios # 3C – 440 Lafayette, NYC 10003
Workshop Fee: $360
To register:
Email – janakipatrik@gmail.com with "Choreography Workshop" as the subject of the email.
A registration form and instructions for payment through PayPal will be sent by return email.
Materials for the workshop will be sent upon receipt of the registration form and workshop fee.
Please feel free to write janakipatrik@gmail.com with questions.
~~~~~~~~~~~~~~~~~~~~
Past Workshops
ANGIKAM Workshop in Choreography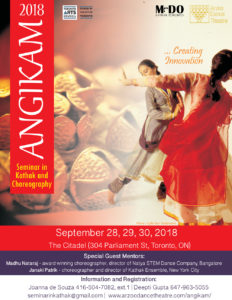 Janaki Patrik taught "Movement Exercises" at the ANGIKAM Workshop in Choreography on Friday, Saturday & Sunday, September 28-30, 2018.
This is how Janaki Patrik describes her workshop:
"Inspired by his observations of ballet training in the Soviet Union – the ballet barre, center combinations and across-the-floor conclusion, Pt. Birju Maharaj created "Movement Exercises" for the dancers in Kathak Kendra's Ballet Unit. I learned them in 1967 and for a few years thereafter, as Maharaji gradually added to the series of exercises.
These "Movement Exercises" disappeared from the daily Ballet Unit routine by the 1980's. But I had notated them in great detail. From my many pages of hand-written notes, and with hours of practice, I was able to revive the exercises for the ANGIKAM 2018 workshop.
I have been using the first six Movement Exercises to train my students for the past many decades.  At the ANGIKAM 2018 choreography workshop in Toronto, I taught as much of the full series as time permitted.  More still remain to be taught.
It is my belief that this series represents much more than a Kathak aerobic warmup. The exercises deconstruct Kathak compositions, paring them to the bare-bones building blocks of our technique. Their emphasis on ANG, as the body moves rhythmically through space, builds the dancing body's kinetic and kinesthetic memory of the torso's alignment. This subconscious memory is necessary for the utmost economy of movement, building the speed, grace and articulation at the pinnacle of Kathak dance.
I believe, that, in addition to systematic training in alignment included in the earlier exercises, the later exercises give us insight into the progenerative process of creating variations from simple rhythmic and movement phrases. These variations exemplify the process of building elements of Kathak repertoire – including Tihai, Lari and Laya bant – and of spinning improvisations from small rhythmic and movement kernels.  And is this not at the core of the choreographic process itself?
When I teach Maharaji's Movement Exercises, my western analytical school-marm self adds observations about the elements of Kathak technique which are addressed by each particular exercise. I owe the development of my "eye for alignment" to Maharaji and to my western dance teachers, with whom I studied for a decade following my initial Kathak training from Maharaji in the 1960's: ballet from Madame Gabriella Taub-Darvash & Maggie Black, and Cunningham modern dance technique from teachers at the Merce Cunningham Studio – including many classes with Merce himself.
A companion study to the "Movement Exercises" is my system of movement and rhythmic notation. I was able to preserve my memory of the exercises only by developing a means to notate them. There's no secret to this system – it's detailed and somewhat cumbersome, but it allows me to recreate compositions decades after learning – and forgetting (!) – them. The tilt of the head, the direction of the eye's focus, the moment when the finger tips align with the wrist to give the final release of energy – all such details are integral elements in the study of The Great Art of Kathak.  © Janaki Patrik, 9 October 2018
The Kathak Ensemble & Friends presents a workshop with Sandip Mallick
Friday 5/18 through Sunday 5/20 in Manhattan
"Dance is a language of communication and Kathak is my mother tongue."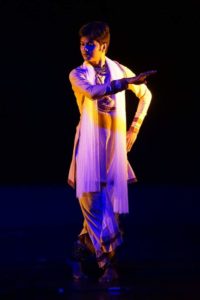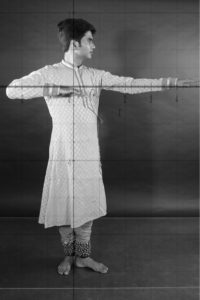 Guru Sandip Mallick taught a variety of items from his technique and repertoire. In addition to an item entitled UMANG, and a selection of tandav and lasya parans and paramelu, Guru Mallick taught a participatory workshop demonstrating his GEOMAMATRIC analysis of movement. Guru Sandip's subsequent discussion with workshop participants about the use of his system provoked an interesting dialogue, which continued into the dinner hour following the two Saturday sessions.
<!– Check out Guru Sandip's work: https://www.youtube.com/watch?v=bfxsHyItDqc https://www.youtube.com/watch?v=2FIDqS6-K3U https://www.youtube.com/watch?v=NQe9MjaLqkA https://www.youtube.com/watch?v=72UN7b6tWSE https://www.youtube.com/watch?v=56o3npvaFeo
Art of the Tawaif Workshop
The Kathak Ensemble & Friends / CARAVAN, Inc. in association with Sangeet Millennium
presented a participatory workshop for vocalists & dancers taught by
Padmashri Rita Ganguly
assisted by Meghna Kothari with Narendra Budhkar, tabla Amir Khan, sarangi
Sunday, November 9, 2014 @ 440 Studios, 440 Lafayette Street, NYC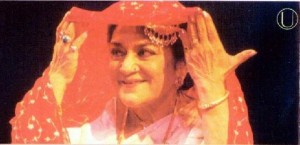 Padmashri Dr. Rita Ganguly's trip to the United States coincided with the 30th anniversary of a ground-breaking, five-day conference she organized in India in September 1984. Entitled WOMEN MUSIC MAKERS OF INDIA, it featured performances by seventy-five surviving Tawaifs. Celebrating Dr. Ganguly's extensive research and documentation of the art of the tawaif, the Society of Ethnomusicology invited her to read a paper at their 2014 conference in Pittsburgh.
Dr. Ganguly taught workshop participants Tum aao to sahi, a ghazal written by the modern female poet Padmashri Mumtaz Mirza. Using the literal and figurative meanings of the words as springboards for gesture, Dr. Ganguly coached workshop participants to interpret poetry from the mushaira and mehfil.
I'll place you in my heart – come; I'll hide you from the world – come
The road is dark and the destination far – come.
You're unfaithful, you're cruel, your job is inflicting pain – I'll make you god – just come.
Differences will be sorted out slowly – whatever may be the way, we'll work it out
you just come.
Tum to aao sahi by Padmashri Mumtaz Mirza
Kathak Master classes
Taught by Padmabhushan Smt. Kumudini Lakhia
Assisted by Prashant Shah with Pt. Ramesh Misra, sarangi and Narendra Budhkar, tabla
Friday-Saturday-Sunday, March 1-2-3 @ 440 Studios, 440 Lafayette Street, NYC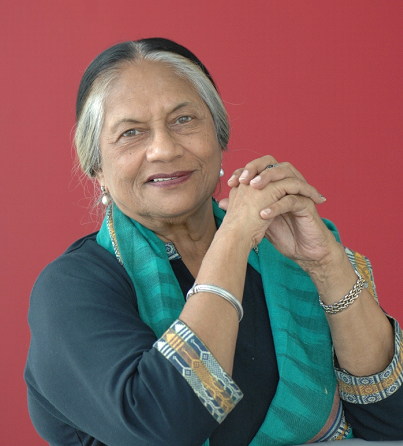 Each day featured two sessions, in which Ms. Lakhia taught examples of her innovative choreography based on classical Kathak technique. In the first session a song by the medieval female poet Mira Bai – Bansiwala / The Flute Player – was taught as an example of refined abhinaya within a rhythmic framework. In the second session Kathak compositions from the standard nritta / pure-dance repertoire (thaat & aamad) were re-framed and re-staged with non-standard music by Atul Desai, creating a dance of off-center modernism entitled Vilambit.
Kumudini Lakhia's workshops were presented by The Kathak Ensemble courtesy of the Swarthmore College Dance Department, whose Associate Professor Dr. Pallabi Chakravorty applied for and facilitated Ms.Lakhia's residency under the Cornell Visiting Professorship for the 2012-13 academic year.
I told him to come, but he went away – Counting the days (on my fingers) the rubbing erased the lines.
I searched in each and every grove – I searched the entire country.
Because of him, I will become a yogi, wearing god's clothes.
He sports a peacock crown, a golden dhoti and curly hair
Mira's lord is the lifter of mountains – Krishna.
Bansiwala by Mira Bai