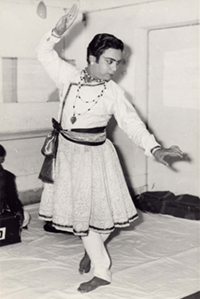 Maharaji, Padma Vibhushan Pandit Birju Maharaj gave me my first glimpse of Indian dance and culture. While leader and star performer in the Bharatiya Kala Kendra's 1963 American tour under the auspices of Asia Society,he incited my life-long dedication to Kathak with his magnetic presence and stunning technique.
In July 1967 I traveled to New Delhi to have an audition with Maharaji. Blind to any practical obstacles, I never considered the possibility that he might not accept me as his student. Maharaji created a beginning class – myself and the young Nepali dancer Manoranjan Joshi. In 1969 we were joined by Nirmala Nandu from Mauritius.
I spent the entire day at Kathak Kendra, beginning with Maharaji's morning "movement class", which he modeled on the ballet barre he observed being taught at the Bolshoi Ballet School during his first tour to Russia. Several of Maharaji's senior students conducted practice sessions for the beginning class – Bharati Gupta, Pratap Pawar, Pradeep Shankar and Tirath Ajmani. I watched Maharaji rehearsing and creating choreography for the Kendra's "ballet unit", took vocal and tabla classes and observed every Kathak class I was allowed to sit in. After going home to have dinner with the Garga family at the nearby National Children's School, I frequently returned to the Kendra to observe Maharaji teaching late evening classes to the beautiful and generous Uruguayan dancer Surama Gandhara and to the young, talented Saswati Sen.
And of course I attended every performance which Maharaji gave in Delhi. He invited Manoranjan and me to accompany him to all sorts of public and private venues. I had heard of Maharaji's legendary partnership with Kumudini Lakhia, who had left Delhi to found her own institution in Ahmedabad by the time I joined the Kendra. I was thrilled to watch Maharaji and Kumuji offer their dance at the wedding reception for the daughter of Bharatiya Kala Kendra's founder Sumitra Charat Ram. When he led the Kathak Kendra ballet unit in a performance of his "Krishnayana" in Lucknow, all of us were treated to a tour of the house where he had lived as a child and his father had performed and taught. In this city where the Lucknow gharana/style had been born, Maharaji stopped on every street to greet shopkeepers who had given him sweets in his childhood in exchange for a line of poetry danced in Kathak.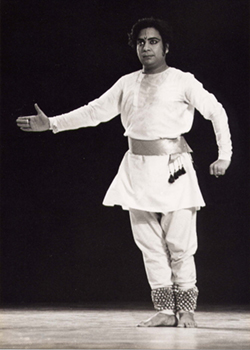 When I first studied with Maharaji in the late 1960's, I knew only a few words of Hindi, and most of them started with the letter K: kya– what, kyon – why, kon – who, kab – when, kahan – where, kis ka– whose? Exasperated with my inquisitive, scholarly, and physically static mind-set, Maharaji said with exhaustion one day, "Kya, kya, kya. Stop thinking. Just dance." In this case as in many others his pithy lessons have challenged my preconceptions and predilections and forced me to grow as an artist.
With my Kathak home in Delhi and my birth and marriage homes in the United States, I have lived a divided life, spending many years of solitary practice away from Maharaji. Thousands of images in my mind's eye — of Maharaji dancing and teaching and speaking and singing and laughing — have kept me company and inspired my dance. I treasure these memories of his humor, his poetic and metaphoric images and his eyes, which visualize Kathak in the physical as well as imaginary realms. In more recent years when electronic paraphernalia was occasionally allowed in the classroom, I kept a mini cassette recorder in my dance bag. On a few lucky occasions, I recorded some of the unselfconscious images with which Maharaji illuminated a physical movement or motivated the physical manifestation of an emotional state. "Always the dance…you must think that the dance, your imagination is standing in front of you, and you are playing with that imagination. And that is so beautiful, and you are looking always to that imagination to see by your eyes, the beautiful, their figure and movements and expression. You are always playing with that high thing. That is not blank expression." "The dance creates in heart, thinking by mind, and the hands and feet are like supporting artists to create your feelings out from your body." "One connection. The brain and eyes are so near. The two nerves are so near. And they think immediately together. As the eyes will see and immediately the brain will start to think. The two friends request to heart: you also come, you must come with me, that poor heart should go with them."