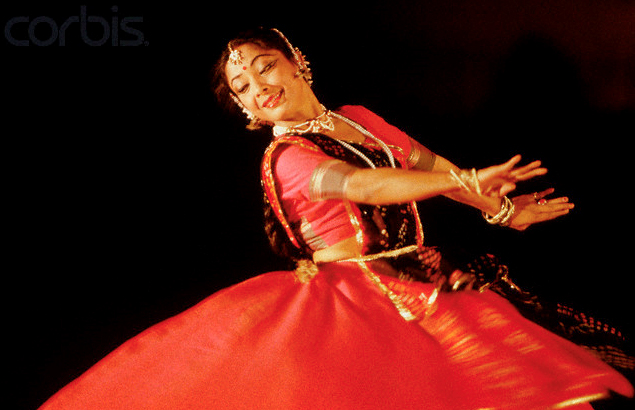 Saswati Sen was still a child when I met her in 1967. Her father brought her to the evening class which Maharaji taught me and my Guru Bhai, the young Nepali man Manoranjan Joshi. Intent on nurturing his daughter's talent, and fervently devoted to those who taught her, Dr. Sen formally introduced Saswati to Maharaji and respectfully requested that Maharaji accept her as his student. Saswati danced, and Manoranjan and I, beginning students, were entranced. Though still a child, Saswati was already a lovely Kathak dancer. She had been trained by the eminent Kathak Guru, Srimati Reba Vidyarthi, who had been trained by Maharaji's father, Aachan Maharaj. "Reba Didi" painstakingly taught the beginning Kathak students at Kathak Kendra, New Delhi, and when she felt that they had learned the fundamentals, she entrusted their advanced training to one of the reigning gurus of the Lucknow gharana — Birju Maharaj or his uncle, Shambhu Maharaj. With such a foundation in Kathak and with her innate talent, perseverance and devotion, Saswati was to become one of India's preeminent female Kathak dancers under Maharaji's guidance.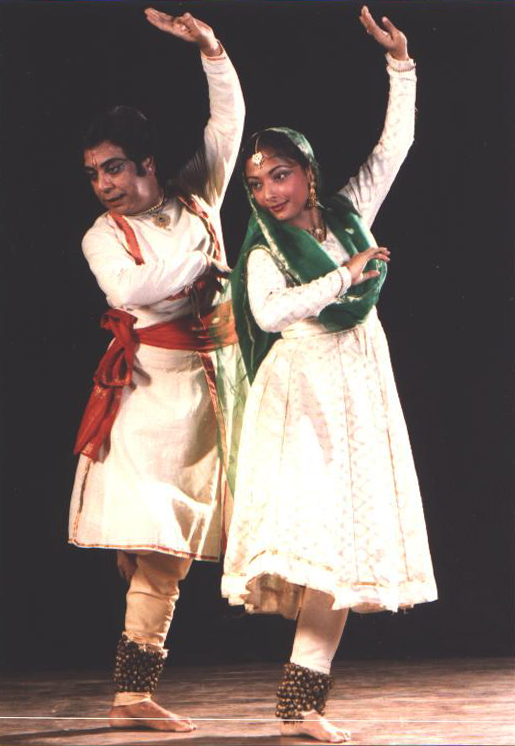 Friendship is a delicate flower. Mine began with Saswati when she was a child and I was a very young adult. But in terms of what mattered most in our lives, Saswati was senior and I was junior, no matter what our birth dates. Saswati had already received years of excellent Kathak training; I had received only two or three months. Born into the north Indian culture from which Kathak had sprung, to parents who were active performers in Bengali theater, her knowledge of Indian culture as manifested in the performing arts was vast and intuitive. In contrast my knowledge was limited to book-learning, acquired while researching Indian culture prior to my first visit.
Impressed by her skill rather than her young age, I asked Saswati to help me practice my Kathak lessons. Generous and eager to share her knowledge, Saswati invited me to her home, where she corrected my awkward movements and her mother fed me delicious Bengali food. The hospitalilty offered by Saswati and her family — her mother, father and playful younger sister Baswati — made my first visits to India less lonely.
There are still movements in my repertoire which I perform with a memory of Saswati's corrections and demonstrations. One memory is particularly vivid. Saswati, chaperoned by her mother, performed in Lucknow with the Kathak Kendra Ballet unit in fall 1967. Fortunately I traveled with the Kathak Kendra contingent, since my vocal Guru, "Mataji" Siddheswari Devi, had insisted that I accompany her on tamboura during her concert in the same festival. Constantly shadowing Maharaji and the performers, I stood backstage as the dancers put on makeup and costumes. When Saswati rested momentarily from her preparations, I asked her whether my gesture of drawing the veil across by face — one of a large variety of such gestures whose subtle variations reveal the infinite nuances of a woman's character — was correct. Laughing mischievously, Saswati proceeded to perform five or six variations, finishing with an innocent question — "Which would you like to learn?"
During the intervening years Saswati has become an internationally acclaimed Kathak dancer – the embodiment of the Lucknow gharana's grace and power, and an exemplar of her Guru's particular creativity. She has tirelessly worked to set up his tours – performing and teaching as his assistant throughout the world. I have been fortunate to continue my friendship with Saswati through my work in facilitating many of Maharaji's programs in New York City.
Saswati's tireless efforts to spread Maharaji's style have also contributed to establishing his institution, Kalashram, which teaches classes in several Delhi locations as well as in Kolkota. Acknowledging her contributions to the art of Kathak, The Sangeet Natak Akademi, India's National Academy of Dance Music and Drama, presented Saswati with its life-time Award in 2004. She is also the recipient of the Sanskriti Award, the Shringar Mani Award and the Critic's Recommendation Award.
In additional to her individual accomplishments as a renowned Kathak dancer, Saswati has made contributions to the entire Kathak community. Of fundamental importance has been her decades-long assistance to Pt. Birju Maharaj in conceptualizing, recording and publishing books and music about the Lucknow gharana technique and repertoire. These projects have extended Pt. Birju Maharaj's and his gharana's legacy and given his students resources to continue performing and teaching according to his principles. These include the CHAND KAAVYA series of recordings, the ANG KAAVYA compendium of fundamental movements and their nomenclature, the RAS GUNJAN collection of Bindadin Maharaj poetry which forms the core of the Lucknow Kathak repertoire, and the video KATHAK PRICHAYA Parts I & II. Saswati's 2013 biography of Pt. Birju Maharaj, "The Master Through My Eyes", provides a personal perspective on Maharaji's life, and also includes a large gallery of photographs and essays by some of the dancers he has trained.
When I first saw Saswati, she appeared to me as a petit embodiment of grace and physical beauty. I mistakenly thought that her name was the Bengali version of Saraswati, the Hindu goddess of arts and learning, which would have been very appropriate for such an intelligent and gifted young dancer. I subsequently learned that her name derives from the Sanskrit word shashwat, meaning "eternal, constant, perpetual". In the intervening decades I have had time to ponder the meaning of Saswati's name and to witness her embodiment of eternal dedication to the art of Kathak, of constant service to her Guru, Pandit Birju Maharaj, and of perpetual activity in performing and teaching Kathak.