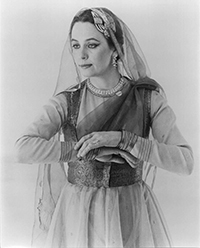 Janaki Patrik has been trained in Kathak classical North Indian dance, Hindustani vocal and tabla drumming at the Kathak Kendra, New Delhi, by several of North India's greatest artists, Kathak Guru Pandit Birju Maharaj, vocalist Vidushi Siddheswari Devi and percussionist Sri Purushottam Das. Also trained in music and dance idioms of her native United States, Janaki studied classical Western flute under Donald Peck, first flutist of the Chicago Symphony Orchestra, as well as ballet and modern dance. Her principal ballet teacher was Madame Gabriella Taub-Darvash. Awarded a Merce Cunningham Studio scholarship in 1971, she studied Cunningham technique, repertory and choreography from 1971 to 1978.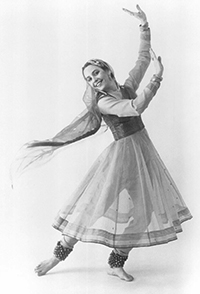 Since poetry lies at the foundation of Kathak technique, repertoire and performance practice, Janaki has acquired facility in many of the major languages and dialects of North India, including Sanskrit, Hindi, Urdu, Braj and Maithili. She was awarded a Senior Research Fellowship from the Fulbright Foundation in 1988/89 to study the poetry of the Kathak dance repertoire, and an American Institute of Indian Studies Language Fellowship to study Hindi in India in 1994. She received her Master of Arts from Columbia University, The Department of Middle East and Asian Languages and Cultures in May 2000, concluding her academic work with a translation and contextualization of an epic poem by the early twentieth-century Hindi poet Jayshankar Prasad.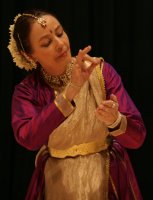 Cofounder of The Kathak Ensemble & Friends in 1978, Janaki has performed both classical Kathak and her own choreography throughout the United States, Canada and India at venues including Lincoln Center and Asia Society in New York City, the Smithsonian Institution in Washington, DC, Premier Dance Theatre in Toronto, the Indian International Center in New Delhi, the Bindadin Maharaj Rangmanch in Lucknow, U.P., India and the Srinathji Mandir in Nathadwara, Rajasthan, India. Her recent full-evening productions include KA-TAP, interweaving Kathak with tap dance,and Hindustani music with jazz; MANDALA X, an orchestral setting of the ancient Indian Rig Vedic "Hymn of Creation" with a 30-voice chorus, mixed Indian and Western instrumental and vocal soloists, a Vedic chanter, and a multiethnic ensemble of nine dancers; and NEW YORK DELHI MIX with 12 dancers and nine musicians, who dance and play American gospel, bop, jazz and swing, with Indian folk, sacred, classical and Bollywood melodies and rhythms.